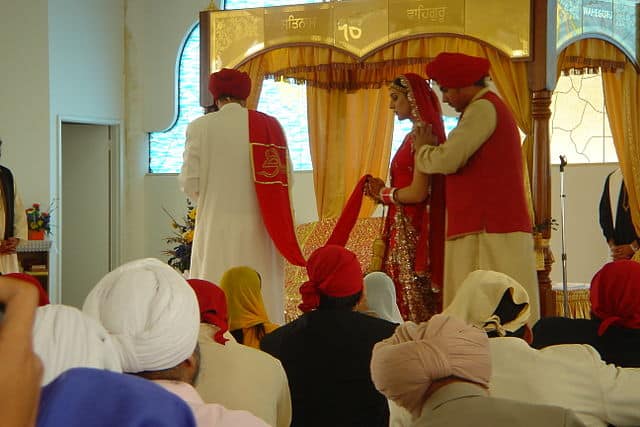 Attending a Sikh wedding is a glorious occasion and requires suitable clothing to be worn by males  including the groom, the best men, the Sikh males guests and the non-Sikh male guests. There is plenty of choice for all those attending from traditional clothing to more westernized options like suits.
For a Sikh wedding, the groom can wear traditional clothing like kurta pajamas, sherwanis, a turban to westernized clothing like a trouser and jacket suit. Grooms can also wear a Kalgi and Sehra on their turban. Male guests can wear kurta pajamas, turbans or even a trouser and jacket suit, to try and match the groom.
Sikh wedding outfits are always colorful. They consist of bright colors and bold prints. The material being used in outfits can range from cotton, velvet, silk to name but a few. The only colors to be avoided by any Sikh groom would be pure white and black.
Black and white are normally traditionally worn at funerals in the Sikh community. You definitely need to stay away from those two colors as they are definitely not auspicious colors for a groom to wear, especially on his wedding day.
In this article I will be looking at the wedding attire options for Sikh grooms, their male family guests as well as both Sikh and non-Sikh guests.
Sikh Groom
Sikh grooms' outfits can vary from the traditional attire to a western trouser suit, with popular items including a turban,  There is no right or wrong choice to make here. This really is very much a personal choice and depends on the overall look the groom is aiming for.
Kurta Pajama
The most common and popular outfit for a Sikh Groom would be the Kurta Pajama. This consists of trouser like garment with a long top. The trousers worn are known as either a churidar pajama or a salwar.
The churidar are trousers which are tight/close fitting. The salwar are a looser fit pants which narrow at the ankles but, are a wide cut at the top. The top is normally down to the knees. The style and pattern of the Kurta varies from designer to designer.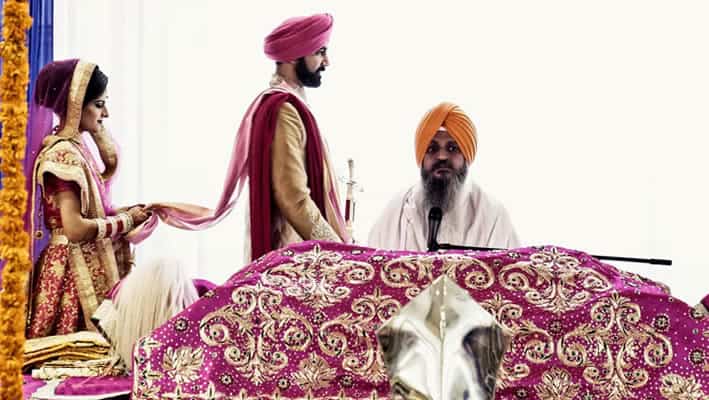 The kurta can be in bright colors with gold prints either embossed into the material or gold threads may be used to embroidery a pattern onto the garment. Embellishments around the collar, neckline and sleeves are quite common too.
Again, it depends on how intricate and heavy the groom wants his outfit to be. Some of the more popular color choices for a Sikh groom would be different shades of reds, creams and golds but, grooms can pretty much wear any color they choose.
Sherwani
The bride and groom can even coordinate the colors of their outfits as well. Normally the groom will choose a plain kurta but, add a Sherwanis over the kurta. A Sherwani are like an overcoat and are both knee-length.
If the groom opts for a plain Kurta, he can then choose to wear a Sherwani, like an overcoat, over his plain outfit and that will be designed with intricate patterns and embellishments.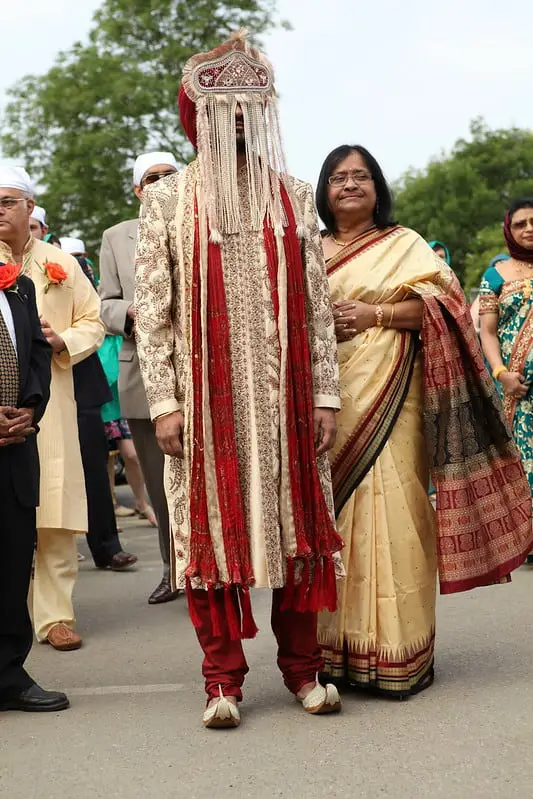 This will lift the outfit from every day to one for a special occasion and best suited for a Groom to wear on his special day and look the part. This is an ideal opportunity for any groom to stand out from the crowd and chose an outfit which not only gives him the feeling of being the groom but, will also makes him feel special and stand out from the crowd on his wedding day.
Achkan
The Achkan is similar to a Sherwani in that it can be worn over the kurta pajama however, the Achkan is slightly shorter than the Sherwani and has a more fitted look, making it more matched to the contours of the grooms body. The Sherwani on the other hand from the waist down, is flared and a little looser around the body.
The Sword
Traditionally a Sikh Groom would carry a Sword as part of his wedding attire. In the past, during the wedding processions, wedding guests were often attacked and looted for their jewelry and cash. Therefore, the Groom would carry a sword with him as means of self-defense for not only himself but offering protection for his bride as well.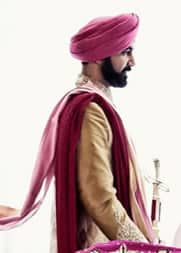 Through generation this has now become part of the wedding attire. This compliments a Sikh Grooms' wedding outfit and adds an extra special something to complete his wedding outfit. The sword is now carried not for protection or self-defense but, to ward off 'evil spirits'.
Turban
Traditionally a practicing Sikh Groom would not have his hair cut and would wear a turban as part his daily dressing ritual to keep his head covered. Nowadays, even Sikh grooms who have cut their hair will opt to wear a turban to give them that traditional look and feel on their special day.
The size of turbans untied are 2 yards wide and 6 yards long and normally the material would be cotton. The material of the turbans is starched so that once wrapped around your head, it will keep its shape and give a crisp finish to the turban.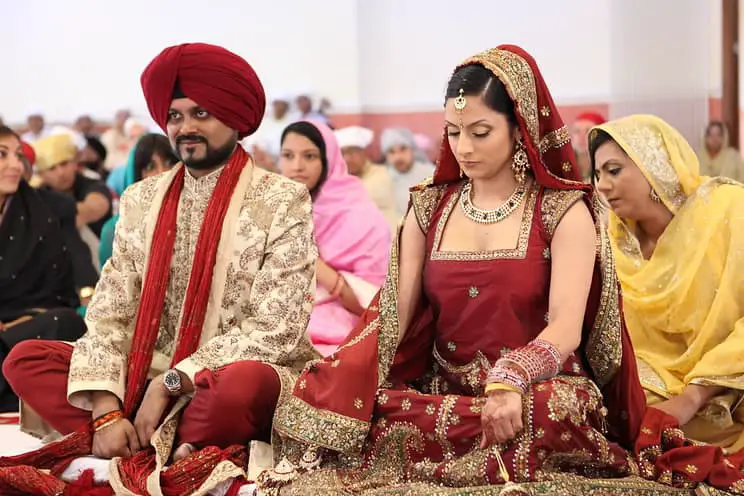 On the wedding day the turban will be tied by the grooms' father. As turbans come in all different colors and styles, the choice of turban can be based on the groom's family origin or even their caste. The style of the way a turban is tied maybe something that is shown to a son by his father and carried forward from generation to generation.
However, on his wedding day the groom may opt to wearing a different shade of turban than his usual color. The most common shades of turbans for a groom are different shades of reds and pinks. A groom may choose to coordinate the color of their turban to compliment the brides outfit.
Kalgi
The groom may choose to decorate their turban using a Kalgi. A Kalgi is a turban ornament which can be incrusted with beads, feather or semi-precious or crystal stones. They are not only colorful but are also very regal looking. They do vary in both design and style.
They come in the shape of a broach like pin or tied to the front of the turban. They are very colorful and will compliment any traditional outfit. Traditionally it is put on the turban by the Grooms' sister. This not only enhances the overall look of the groom but, will make him feel like a prince or a king for the day.
Sehra
A Sehra basically acts as a very decorative veil which is tied to the grooms' turban. The ritual of tying the sehra would be done at the groom's home by his sister-in-law. It covers the groom's face so that the bride and the groom do not see each other until after their wedding ceremony and also helps to ward off the 'evil eye'.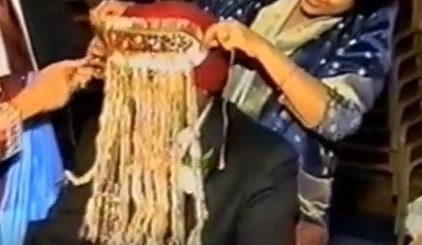 The Sehra can be made from flowers or beads. It consists of a small band which sits across the top of the turban with flowers or beads draping down to cover the groom's face. The actual top band of the Sehra is normally gold in color and can be embellished or adorned with jewels. It can come in different colors to compliment the groom's turban color.
Sehra's do come in a variety of both color and style so you can always find something to suit the color and style to complement your whole wedding attire.
Western Suit
Instead of a traditional Sikh outfit, the groom has the option to wear a trouser and jacket suit on their wedding day. There is nothing wrong with wearing this outfit.
Suits are readily available to purchase from most stores and can vary in price. The cost of your suit will depend not only upon the style of your suit but, also the material you chose.
Ensure you chose the material according to the time of the year you are getting married. You do not want to wear a wool suit if your getting married in the Summer months as you will be sweating the whole time. You can even purchase a made to measure suit which will be specifically tailored to the individual shape of the body.
The only thing to bear in mind is not to wear a white or a black suit. These colors are normally worn in the Sikh community when attending funerals. Options are either to wear a two-piece suit such as trousers and a jacket or a three-piece suit comprising of trousers, waistcoat and jacket. The material of suits can vary from cotton, linen, cashmere and wool.
You should choose the material of your suit depending on the time of the year you are getting married. There are a number of different styles of suit jackets available on the market which cater for all different shapes and sizes. The jackets can be different in fits.
Slim Fit
A slim fit will fit closer to the body, whilst a classic fit which is not as fitted as a slim fit is looser and a modern/tailored fit which is between the slim and classic fit and will basically consist of a little more fabric and therefore not be too closely fitted to the body. Jackets come in either double breasted or single breasted.
Double breasted suit
A double breasted jacket will give a wider overlap with two equal rows of buttons. A single breast jacket will consist of one row of buttons with narrower overlap.
There are a vast range of colors, styles and designs of suits on the market so the groom will definitely be spoilt for choice. Your suit could be of one plain color, pin stripped or herringbone print to name but a few.
With a plain color suit you could have a printed waist coat or a different color waistcoat to add a little something extra to your wedding attire. The options are endless, and the suit options are vast and varied. Above is only an outline of the business suit options which are more commonly worn by majority of the Sikh grooms.
Morning suit
A groom could pick suits which are more common in the western wedding traditions, such as a morning suit or decide to wear top hat and tails. Obviously, this will be more appropriate may be to wear at a registry wedding.
In my opinion it is imperative for the groom to always wear a tie, as this makes the whole outfit not only look more professional but, is definitely more appropriate dress attire for your big day. The tie can also be coordinated with the colors of the bride's wedding outfit.
The cost of a suit as I have already mentioned above, vary according to the style you chose, the material and the actual designer of your suit. Suits bought from shops will vary from shop to shop and depends on the designer of your suit.
For example if your suit in the shop is made by Ted Baker or Hugo Boss, they will be exceedingly more expensive then if you buy your suit from Marks and Spencer or Hawes and Curtis. Obviously, a hand made suit will be the costliest as it will be made specifically to your measurements and is tailor made for your body shape and size.
Grooms shoes
Jutti's
If you do opt to wearing a traditional Sikh wedding attire, then you should complete your wedding attire by complimenting your outfit with traditional shoes.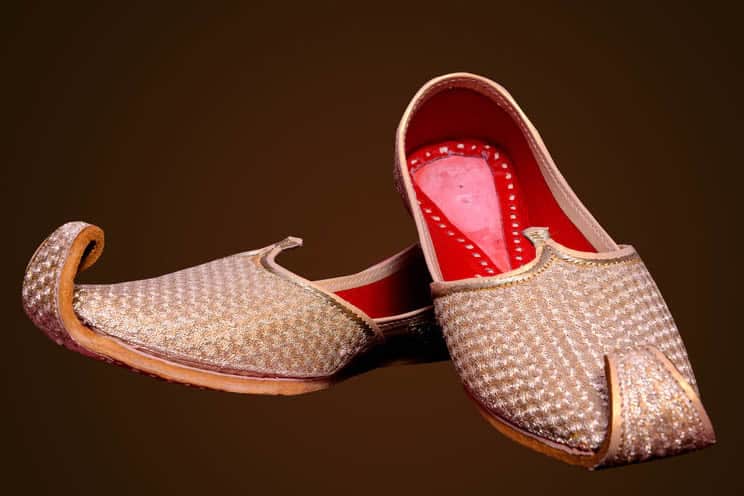 The traditional Sikh shoes are mainly known as Juttis or Mojaris. However, they are also known as Mughal or Indian Khussa. Traditionally handmade made, they are slipper like shoes which  are colorful and embroidered.
These shoes do not consist of a right and a left shoe. There is no distinction. The shoes will adapt to the shape of your feet over time. Juttis are always of a flat heel/sole. They are distinguished by their sharp extended curved tip.
They can be very intricately embroidered using real silver or gold threads. The Juttis have been worn by Indian royalty for over 400 years. They are commonly made in leather and can contain colored beads, sequins and embellishments.
They come in different colors and can vary slightly in their style and design. You could choose a color which compliments the color of your outfit. The prices of juttis will depend on the designer of your shoes and will depend greatly on the amount of embellished and threadworm and of course the material being used.
This will complete your ceremonial and traditional attire beautifully and make you feel like a Prince or a King for the day.
Western Shoes
If you are wearing a western trousers and jacket suit on your wedding day, then you should complete your wedding attire by wearing western shoes. Opt for smart shoes which are normally with laces. Shoes can make or break your overall look. So choose wisely as shoes will complete your wedding attire.
There are a variety of styles available on the market for you to choose from. Your decision may depend on your overall look, the month you are getting married and the material you choose.
For a more formal affair, Oxfords or Brogues are commonly be worn. They are the most common shoes for weddings.
Oxford Shoes
Oxford shoes are basically shoes with a closed lacing system. To create a sleek and streamlined look, the eyelet tabs are sewn under the vamp of the shoe. and normally made from leather. They are smart shoes appropriate for formal occasions. The heel is normally low.
Brogue Shoes
These shoes are classed as dress shoes. Brogue shoes consist of laces but, feature a decorative element which is known as broguing. Broguing is simply decorative perforation and serration along the visible edges. It can either be a shoe or a boot style and made of leather. They are also normally of low-heel too.
Colors
Choose a color to compliment your suit. The most common color being either black or variations of the color brown.
Price
The price of your shoes is dependent on the material, style and the designer of your shoes. You could even splash out on your shoes and treat yourself on your big day by opting for handmade shoes. Made from top class material, sleek and smart shoes.
Ensure if you do buy a new pair of shoes that you start to wear them prior to your big day. This will not only help the leather to soften but, will make sure you get used to your shoes.
Make sure your shoes are comfortable as you will be wearing them for most of the day.  After all, we all have a pair of shoes that we always wear because they are so comfortable.
Best Men
In the Sikh wedding party they do not have the concept of 'best men' as in the western terms. However, the groom may decide upon some of his close family members and close friends to wear the same or similar colored outfits on the day.
The colors maybe coordinated with the grooms wedding attire. The groom may stipulate a color, but the actual style of the outfit may be left for the 'best men' to decide upon.
Wearing the same or similar colors as the groom shows that not only are the men very close to the groom but, also that they are also acting as his best men.
Kurta Pajama
If the groom is dressing in a traditional Sikh attire, then you could also wear a traditional outfit such as a Kurta Pajama. The Kurta Pajama can be of any color and print.
The only thing to bear in mind is that you do not wear a black or a white outfit as those colors relate to funerals in the Sikh community. The Kurta's come in a variety of materials. They can be cotton, satin or silk etc. They vary in style and design from designer to designer. Options are available in colors as well as prints.
You can opt for tight, slim or wider fitting trousers. As with the trousers, the Kurta's, the tops can also vary in style. The tops will always be down to your knees and have full sleeves but, the actual style of the Kurta can differ.
The more common Kurta's will have two side splits on either side and some more modern designs have asymmetrical hem line. Your top could have a round neck, with or without a collar.
The Kurta can have some gold or colored thread embroidery around the collar line, so it gives it that special occasion look. Kurta's can be worn with a different color bottoms as well as the complete outfit being of one color.
The cost of a Kurta can vary depending on the style and material you chose. The cost be affected according to the designer of your outfit too. The higher end shops will be more costly.
Depending on the grooms wedding outfit, the best men need to follow his lead and complement him in his wedding party. Remember you are not there to outshine him or wear a better outfit then the groom.
Trouser Suit
If the groom decides to wear a more modern outfit such as a trouser suit then the best men should also be aiming to wear either a trousers suit, (trousers and matching jacket) or trousers with blazers. The groom may decide upon the colors he wishes his best men to wear so that they compliment his outfit and not clash against his wedding attire.
Sometimes, the best men may decide to wear the same color tie as the groom to show unity. Always wear a shirt and tie as it is a formal attire to any weddings unless, you have been advised otherwise.
You can wear any style of suit, just bear in mind that you do not wear a suit or a blazer/jacket in black or white. All male guests have to cover their heads especially when entering the place of worship where the traditional Sikh wedding will take place.
Turbans, Handkerchiefs & Bandanas
For guests, traditional Sikhs will wear a turban to cover their heads. The rest can opt to tie a handkerchief around their heads or wear a bandana.
The safest colors of handkerchiefs and bandanas to aim for would be the shades of blues, greys, cream and even white.
Unless you are coordinating a specific color these with the groom. On some occasions if the groom is wearing a red headwear, he may decide that he would prefer his close family friends and family to wear a similar or same shade of red.
This identifies and connects his best men or close family and friends to other guests. This shows how important and how much they mean to the groom.
Sikh Wedding Guests
Sikh wedding guests have a wide choice of clothing they can wear, including the traditional kurta pajama options to wearing modern day western styled suits.
Kurta Pajama
Male Sikh guests when wearing traditional outfits such as a Kurta Pajamas need to bear in mind, not to wear white or black colored outfits as they are traditionally worn to funerals in the Sikh community. A Kurta Pajama can be as bright and bold as you dare. Few embellishments and gold prints should be appropriate as long as they are not over the top.
When choosing your outfit, make sure you bear in mind that you are a guest and not the groom so don't choose an outfit that will outshine the groom on his big day. The Kurta's come in various styles and designs. The Kurta bottoms are trouser like garments which can be straight cut, skinny leg, i.e. close fitting or slightly baggy but, cuffed around the ankles.
It really depends what you are comfortable with. The Kurta which is the top that goes with the outfit can be of different color to the bottoms. The styles of the Kurta top vary in style, print and design. More commonly the tops are straight cut with two side slits on either side to give you additional room to maneuver.
They can come with some decoration around the neckline. Sometimes the Kurta material is printed so no additional threadwork would be necessary. You can choose from various materials, from cotton, satin to silk, to name but a few. The Kurta will be colorful and decorated either with threadwork or embellishments but, more often the bottoms are always plain in color.
Western Suit
As a guest you could wear a trouser suit, trousers with a blazer or a different colored jacket. The style and design of your suit really depends on what you are comfortable with. Men should always wear a collar with a shirt and a tie.
Young male guests could wear just trousers with a shirt and tie. Always dress smartly and formally, after all, weddings are very much formal occasions unless, you have been advised otherwise. The only thing to bear in mind when choosing your outfit is not to wear the colors black or white as they are both colors which you would wear when attending a Sikh funeral.
Head coverings
Remember when attending a Sikh wedding that you always have to cover your head. This is because the wedding will be taking place in the Gurdwara, a place of worship. You could use a bandana or a handkerchief to cover your head.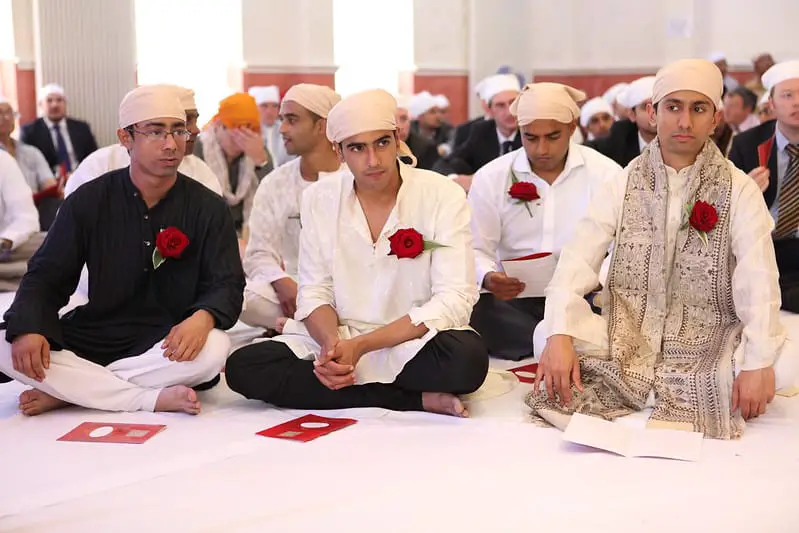 Sometimes handkerchiefs and bandana's are provided by the Gurdwara to share amongst guests who have forgotten to bring something with them. Obviously bear in mind that these have been used by other guests prior to the wedding.
On some occasions the groom may decide to provide bandana for his guests to use which have the bride and grooms name and the date of the wedding printed as means of a wedding momentum which guests could keep. The more common colors of handkerchiefs and bandana's are shades of blues, reds and yellow.
You also have to remove your shoes when entering the Gurdwara. You can enter a Gurdwara either in bare feet or walk in with your socks.
Non-Sikh Wedding Guests
Non-Sikh guests can still wear a traditional Sikh outfit such as a Kurta Pajama. The Kurta refers to the top and the pajama refers to the trousers of the outfit. The Kurta's come indifferent styles and designs.
The Kurta, which is the top of the outfit are normally long sleevedand come down to your knees with two side splits on either side of the garment. The trousers are always long and come down to the ankles. They are usually a close fit but, can come in a looser fitting as well.
You can wear any color or print really but, never wear black or white. These two colors are the main colors that Sikhs wear when attending funerals in the Sikh community.
Remember when attending a Sikh wedding which takes place in a Gurdwara, (place of worship), men should never ever turn up in shorts. It is definitely not appropriate attire and highly inappropriate. Always keep your legs covered. Men can wear trousers with a jacket, shirt and tie or even a blazer.
When attending a Sikh wedding in a Gurdwara you have to make sure that you cover your head at all times. You can use your handkerchief or sometimes bandana's are provided either by the Gurdwara or by the wedding party.
The handkerchiefs or bandana's provided by the Gurdwara are donated by other visitors so bear in mind that they have been used by people prior to you using them. The other thing to remember is before entering the Gurdwara you have to remove your shoes but, you can walk in wearing your socks or bare feet.
Photo credits:
Main image – from Wikimedia is licensed under CC BY 2.0
Groom wearing turban – Best0657 by Ami and Debo Mukherjee is licensed under CC BY 2.0
Sherwani – 3.11 by Ami and Debo Mukherjee is licensed under CC BY 2.0
Non-Sikh guests wearing traditional clothing – Best079 by Ami and Debo Mukherjee is licensed under CC BY 2.0
Head coverings – 5.32 by Ami and Debo Mukherjee is licensed under CC BY 2.0