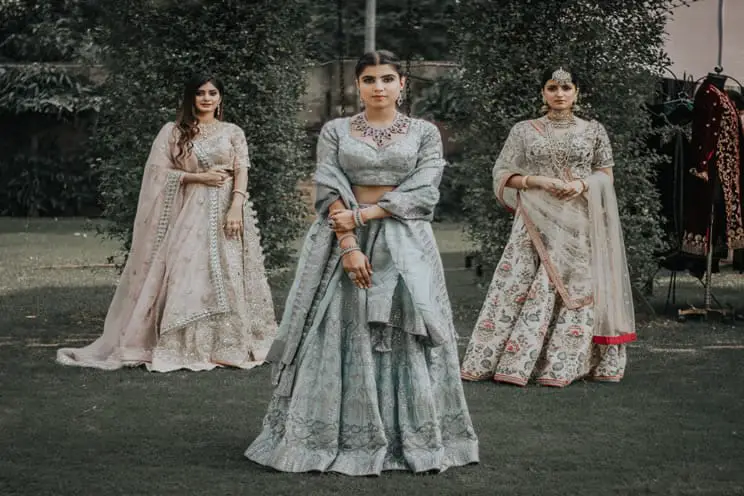 When I had my Sikh wedding, I had many choices of what to wear as the bride with some lovely Indian dresses to choose from. My female guests equally had a good choice of clothing and this included my non-Sikh guests who chose respectful clothing.
What to wear as a female at a Sikh wedding? Sikh Brides can choose to wear a lehenga choli, salwar with kameez outfit or a sari. Likewise female guests at a Sikh wedding can also choose to follow suit and wear similar clothing to the bride and this includes non-Sikh female guests but they all must be careful not to upstage the bride on her special day.
There is a wide variety of options for females at Sikh weddings, with the bride having a huge choice of bridal outfits vary according to their culture and religion.
In this article I will look at not only what a Sikh bride wears on her big day but, I will also outline what bridesmaids, female guests, both Sikh and non-Sikh guests should wear as well. I will outline what colors you should definitely avoid wearing to a Sikh wedding and what is the most appropriate attire for non-Sikh guests.
I have briefly outlined the jewelry and the accessories for both the bride and her guests. Any and all bridal attires consist of three items, in brief one to cover your top half, one to cover the bottom half and one to cover your head. As a Sikh bride it is necessary to cover your head, especially on your wedding day when the ceremonies are being carried out in the place of worship, the Guardwara.
Bridal Wear
Sikh brides outfits can be varied and it is very much a personal choice, there is no right or wrong choice, it really just depends on what the bride wishes to wear on her big day, what she is comfortable with and obviously the complete look she is going for. The trends change as with any fashion. The more common choices now are, Lehenga Choli's, followed by Salwar/trouser and Kameez outfit or a Sari.
The Sikh bride's outfit, regardless of what style the bride choses, can be heavily embellished with mirror work, crystal stones, Swarovski crystals, gold and colored embroidery threads which can make the outfit heavy, not only in the amount of embellishments work but, also in the weight of the whole bridal attire.  
You will find that in a Sikh bridal outfit you will never get two outfits the same. Designers all over the world always aim to produce the best garments possible and no two designers will produce the same pattern or design of an outfit. There may be similarities but, the overall look of the outfit will be different.
This may vary in the colors of the actual garment, colors of the embroidery being used or the type of embellishments used. There are several options not only in the material but, also in the type and style of embroidery.
Sikh bridal attire can range vastly in price. This is very much dependent upon the material being used, the design and pattern of the outfit and of course the level of the work and embellishment on the outfit.
The cost can vary considerably and can range from anything from £100 to £1,000/+. One of the factors for brides when choosing an outfit will obviously be the cost of the bridal attire and this may affect the amount of work on the actual design of the outfit.
Work carried out by hand, is not only very time consuming but, the work on a Sikh bridal outfit can also be very intricate. The level of threadwork and embellishment will also be reflected in the price and therefore this will also have a considerable bearing on the bride and her budget.
The style for each outfit can vary quite considerably and decorated slightly differently and therefore it is very unlikely that a Sikh bride would end up wearing the same outfit as any other bride.
The colors Sikh brides traditionally choose are either reds or pinks. This color palette is vast. It is not as simple as just picking red or pink. There are a number of options within those colors. For example in the red category, you have options such as, dark/light red, maroon, scarlet, brick red, claret, burgundy, ruby, rustic red, terracotta, red to name a few.
In the pink range you can have shades such as, baby/light pink, hot pink, salmon, blush, magenta, fuschia, rose or rouge etc. Range of colors continuously changes and now you can even chose colors to give you that ombre affect to your outfit. Under no circumstances should a Sikh bride wear black or white or even have hints of those colors on her bridal attire. Black and white, traditionally in Sikhs are colors one would wear to funerals.
The three of the most common Sikh bridal outfits are the Lehenga Choli, Salwaar Kameez and the Sari, lets take a detailed look at these.
Lehenga Choli
The most popular choice by a Sikh bride, at the moment, is the trend towards a Lehenga Choli. There are three items to a Lehenga Choli outfits. A maxi skirt which reaches to the ankles, a top and a chunni, which is like a long scarf garment.
Brides generally would opt for a heavily embellished skirt and chunni and the top may have embellishment either around the hem of the blouse or on the sleeve or very subtle embellished overall. Again this is very much a personal choice. The more the embellished on the outfit the heavier the garment will be and heavier the price tag.
Main Styles of the Lehenga's
The skirt of a lehenga can vary in style. I have listed the most common ones.
You can opt for an A-line skirt, which most brides chose as it is a very comfortable to wear and will suit most body shapes. A-line as the name suggests, falls in the shape of the letter A – it has more material as it goes down from the waist and therefore will have some gathering at the bottom.
The straight cut style of lehenga is as the name suggests, this is a long straight skirt.
The fishtail lehenga is a slightly fitted fit. It is fitted on the waist, hips and then starts to flare from the knees.
Style of the Blouse
The style of the top can vary too, it really depends on what the bride is more comfortable with. Brides can opt for a crop top which will show most of their midriff, some opt for short tops which would cover their tummy areas and some opt for longer lengths which can vary from the blouse sitting by the hips or as long down as their hips or even below their knees/calves.
As with any tops, the option of the sleeves can be changed as well. Brides can go for sleeveless, cap sleeves, halter neck, full sleeves or sleeves up to their elbows.
Chunni
The Chunni is like a very long scarf. They are also decorated in the similar manor as the embellishments and embroidery as your lehenga and top. For a Sikh bride, it has to be long enough to be draped over her blouse and cover her head. All Sikh brides have to cover their heads when getting married in their place of worship, known as the Guardwara. It normally comes in a soft material, maybe chiffon and will be slightly sheer in its appearance.
Salwar Kameez
Salwar Kameez consists of three items, trouser like bottoms, a long top and a chunni. Again, it can be as heavily embellished as the bride choses. The trousers have a gathering at the waist. The bagginess of the trousers can vary from being very baggy to quite narrow but will very often be narrow and cuffed at the ankles.
The trousers are traditionally tied by a drawstring although now you can even have the waist elasticated. Designers and shops always have tailors who are able to carryout minor alterations.
The kameez, the top of this outfit is traditionally a long straight cut top with two slits on either side from the waist to down. This allows more freedom of movement. The neckline of the kameez can be as you please, from round neck, V-neck, sweetheart neckline to mandarin style collar.
It really is very much a personal choice. Same with the sleeves of the top, you can chose long sleeves, cap sleeves, sleeveless top or sleeves up to your elbows. The only thing to bear as a bride, is to ensure that your neckline of your top is not too low and shows any cleavage.
Once again, this outfit consists of a chunni, a soft lightweight material which is long enough to be draped from your shoulders to covering your head.
The bridal salwar kameez are also embellished heavily with gold embroidery threadwork to embellishments.
Saris
Saris are less common with Sikh brides but, there are still few brides that prefer wearing a Sari as their choice of their wedding attire. A sari comprises of three items, a petticoat, a blouse and the actual sari itself. Saree's in my opinion, are not the most comfortable outfits to wear for the whole day but, again it is very much a personal choice.
The petticoat is basically like a maxi skirt which is worn underneath the sari. It is tied tightly around the waist using a fabric belt and is slightly A-line in shape and style. It helps to hold the sari in place. The sari is wrapped and tucked into the petticoat around the waist.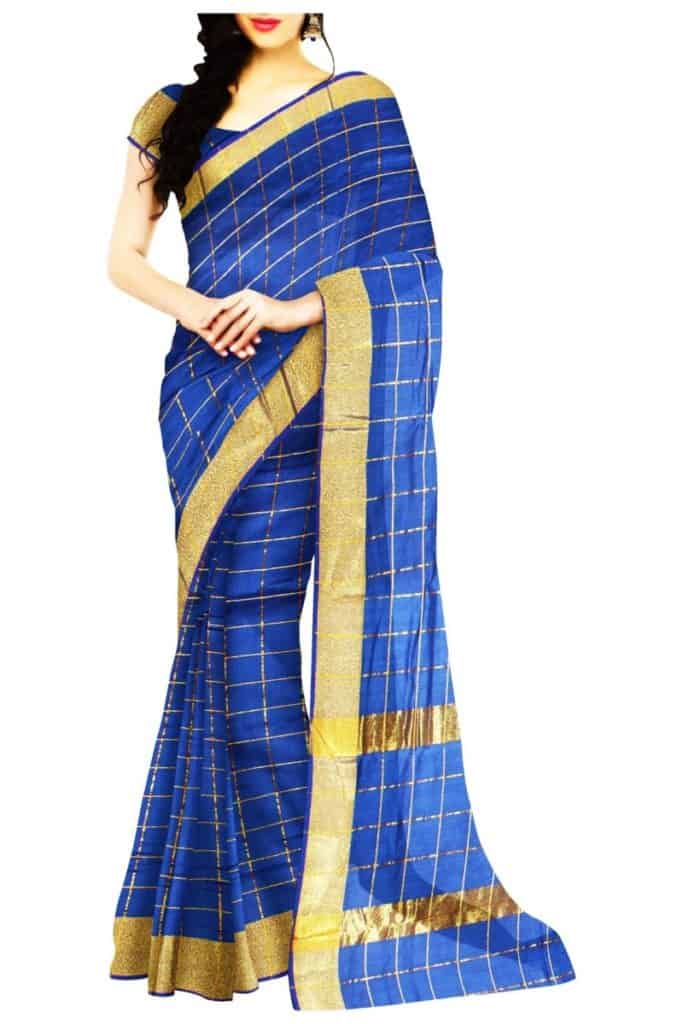 The Sari is a piece of material ranging from 4.5 to 9 meters of material x 600 to 1,200mm in width. It is traditionally wrapped around the midriff area of the female. It has some pleats in the middle of the sari and it is then draped over one shoulder.
Sari's, just as all bridal outfits can be heavily embellished with either mirror/stone or come in a silk fabric with floral woven pattern in gold threadwork and tassel detail which fall and show once the sari is draped over one shoulder.
As fashion changes so do the style of the blouses. Brides can opt for a more modest fitting blouse which covers their mid riff and have either long or ¾ sleeves or even cap sleeves. The more 'modern' bride may opt for a halter neckline, no sleeves and a daring back. You can really chose any style of blouse to suit your personal taste and obviously depends on how body confident you are.  
Your age may have a bearing on your choice and could also have a factor in the choice you make. There are a vast amount of styles on offer for a sari, you can have a V neck or a criss cross effect at the back of your blouse. Again, it really depends on what image the bride is trying to portray on her big day.
Jewelry
The bride traditionally wears 24ct gold jewelry. The whole bridal set would consist of earrings, necklace, bangles and tikka (hangs from your hairline and comes down and sits on the brides forehead).
The jewelry worn on the actual wedding day, will be more elaborate and heavier than your everyday jewelry. The variations of the style of jewelry is vast and varies tremendously in design and from designer to designer. Earrings vary from long dangling earrings, large stud earrings and earrings which have a chain which can be attached to the cuff of your ear.
The necklaces can be choker in style, i.e. covers your neck, some brides chose a long necklace which sits just above the tummy area or even combine the two together. The choices in styles, colors is endless, brides are spoilt with choice.
Traditionally the jewelry has always been in pure gold but, now brides are opting more and more for costume jewelry. This is not only a fraction of the price of pure gold but, allows the bride to complement the jewelry to the colors of their outfit. The costume jewelry you purchase now comes in a variety of colors, styles and even consists of stone work so will never look out of place on a bride.
What do Bridesmaids Wear?
Traditionally a Sikh bride does not have bridesmaids as such but, there are brides who may decide upon having very close friends, their sisters and maybe even close cousins to wear the same/similar color outfits which shows that they are very close to the bride. In the western term this would be classed as Bridesmaids.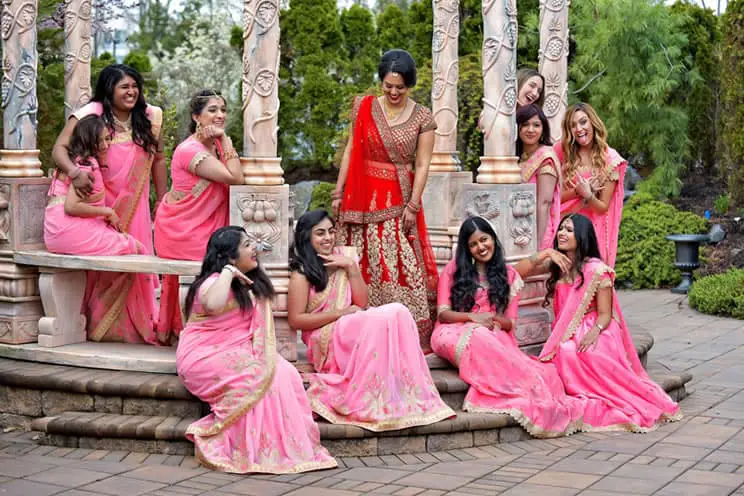 The bride may suggest a color of the outfit for the bridesmaids to wear but, the actual style and type of outfit is left up to the bridesmaids to choose. The traditional outfits bridesmaids would choose from would be the Lengha Choli, Saree, Salwar Kameez or similar. As with the bride, all outfits are vastly varied in style, cut, color, material and embellishment or threadwork.
The only colors you cannot wear when you are acting as a bridesmaid are white or black, as within the Sikh community those two colors always relate to funerals. You have to be careful when choosing the color of your outfit and keep away from reds and pinks unless you have checked with the bride prior to making the choice of your outfit.  
You will find variations in reds and pinks are normally the most common colors a Sikh bride may choose to wear as her bridal outfit. No bridesmaid should turn up wearing the same or similar color as the bride. As a bridesmaid you are not competing with the brides outfit and you have been chosen to be part of the bridal party because you hold a special place in the brides' heart. Your outfit should be complementing the brides choice of color.
The bridesmaids outfits can be slightly lavished with embroidery, thread work and embellishment but, just ensure that outfit is not heavily decorated. You do not want to turn up wearing an outfit that is vastly more embellished then the bride. Your outfit and colors should be complimenting the brides outfit and not be in competition with her bridal attire.
What do Sikh Guests Attending the Wedding wear?
As in any religion, guests should never outshine the bride and this hold true for Sikh weddings. So although guests can opt for outfits that are embellished they need to ensure that it is not over the top i.e. that your whole outfit is not completely covered with embellishments. The other thing to consider is the color your chose to wear. In Sikh wedding guests should never wear black or white as they are traditionally colors you would wear to funerals.
One other factor to consider are the color red and pinks as they are the most common colors a bride may wear. So if you can, avoid the bright red and dark pink hues. You are probably safer to go with very light shades of pinks and reds. Alternatively, if you are unsure of whether to go for red or pink, there are a number of possibilities in other colors to choose from now on the market with variations in shades as well.
Sikh guests can pretty much wear any outfit such as Lehenga Choli, Salwar Kameez and Sari's. There are plenty of options available with a variety of styles and is very rare you would get two guests wearing the same outfit. The more modern Salwar Kameez are moving away from the traditional style and now the bottoms are styled like trousers.
The palette of colors is so vast and styles are so varied so you will definitely be spoilt for choice. Even the range of materials is extensive. You can opt for Silk, Saturn, Velvet, Cotton or Chiffon to name a few.
The most important factors to consider is not to have too much of your body on show as this will definitely be frowned upon amongst the elders of the family members. Do not wear any outfit which is body hugging or has a very low neckline. Make sure your legs are covered either completely or maybe trousers that are ¾ in length/up to your ankles.
Definitely nothing shorter or above your calves. Always ensure that you cover your head as this is extremely important when you are at the Gurdwara, (Sikh temple). When you are not in a place of worship, you do not need to cover your head. The Chunni, (long scarf which normally comes with all Indian outfits), can be draped over your shoulders, or worn around your neck.
Jewelry and Accessories
With regards to jewelry for Sikh guests and bridesmaid, you can pretty much wear any type of jewelry. You can match the jewelry and colors to your outfits. You can wear a set, which contains a necklace and earrings. You can wear genuine gold jewelry or costume jewelry.
Bangles are a great way to feel dressed up in an Indian outfit and finishes off the outfit nicely. There are a number of bangles on the market today and the price ranges considerably. They can be as cheap and as expensive as you like.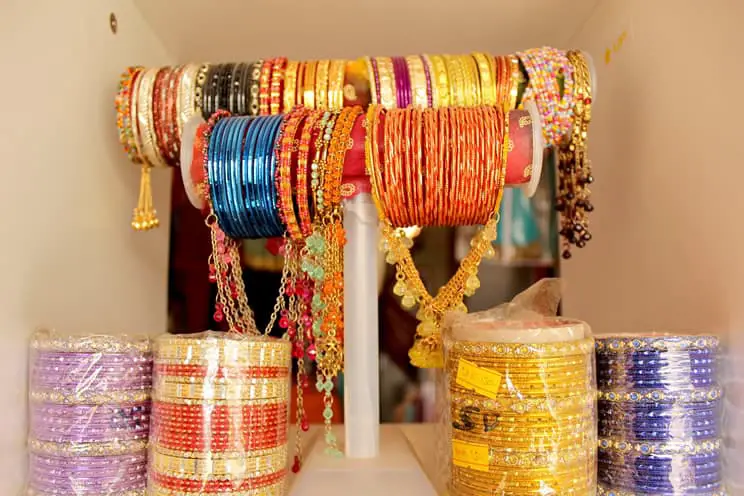 Sets of bangles come in sets of either 12 or 24. Some bangle sets include some thicker bangles and made up the set of bangles, known as kara's. They come in a variety of colors and embellishments.
Women also tend to wear bindi's on their forehead which again come in a variety of styles and color. You can buy bindi's that are even embellished with jewels. This can give that extra finishing touch to your makeup. Bindi's are easy to wear and take off, they are self-adhesive so you do not need any additional materials or need any special care.
They tend to stay put till you decide to take your bhindi off. Bindi's can simply be put on and taken off by simply peeling it off. Bindi's can come in a simple dot like design or come in a longer style. You can match a bhindi to the color of your outfit.
Western Guests Outfits when attending a Sikh Wedding
Western guests, i.e. non Sikh guests have to respect the culture and be aware of what is appropriate dress wear when attending a Sikh wedding. Sikh's in general are very strict when it comes to showing too much skin, it is definitely frowned upon within the community. When attending a Sikh wedding, you have to remember you are entering a place of worship and therefore have to dress respectfully and modestly.
Under no circumstances should women turn up wearing shorts or mini-skirts. Your legs have to be covered either fully or at least up to your ankles. You can wear trousers with a blouse, trousers with a jacket, maxi skirts and a blouse or maxi dresses.
Always ensure when entering a Gurdwara, (place of worship), you take off your footwear prior to walking in and you have to cover your head at all times when you are inside the Gurdwara.
You can cover your head with your own scarf or sometimes there is a basket of donated head wear but, obviously you have to bear in mind that these have previously been used by other guests. This is provided by the Gurdwara and donated by other people. It is not appropriate to wear hats inside the Gurdwara to cover your heads.
The colors that you should definitely not wear to a Sikh wedding are white and black. These colors are traditionally worn in the Sikh community to funerals. Apart from those two colors, you can pretty much wear any other color of your choice.
Ensure that you do not wear anything that is figure hugging in anyway or that your neckline is not too low that is shows your cleavage. Be considerate and dress modestly, less is definitely more when it comes to choosing your outfit. Do not wear anything that is sheer and see through.
These might seem like a lot of rules but, it shows that you are being respectful to not only the bride and her family but you are adhering to their religion and beliefs. You can still show your individuality and have your own style whilst still being respectful. This will ensure you have a great time at the wedding and you are not worrying about any unwelcomed looks from other Sikh guests or worrying about whether you are appropriately dressed.
Wrap up
The choice of clothing for females at a Sikh wedding is both excellent and colorful, bringing wonderful memories of the brides special day for years to come. Guests choice is equally as daunting as the bride but like any other wedding, care must be taken to ensure the bride isn't upstaged by her female guests.
Brides can choose from the lehenga choli, salwar with kameez outfit or a sari with fellow female guests also following suit and choosing from these three types of outfits. The color choice is always vibrant with black and white being poor choices for female guest outfits.