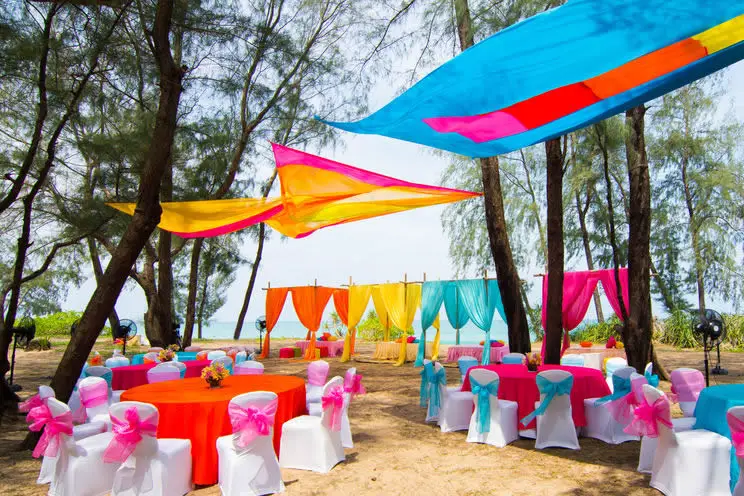 My Sikh friend has always been a big fan of outdoor weddings. She recently got engaged and wondered what it takes to have an outdoor Sikh wedding. We took no chances, so we went online to research.
Can you have a Sikh wedding outside? Yes, you can! As a matter of fact, outdoor Sikh weddings often stand out as fun and memorable because of the ample space guests get to enjoy. Your only concern, as you are about to find out, should be the weather. You may also have to hire a wedding planner who's familiar with outdoor Sikh weddings. 
Not all outdoor Sikh weddings are the same. It all depends on your budget and the number of guests you expect to attend the wedding. Strangely, even with a small budget, you can still manage to have a beautiful outdoor Sikh wedding.
Growing Trend
It goes almost without saying that outdoor Sikh weddings are becoming more and more popular. It almost looks like each young couple today prefers tying the knot outside, in the presence of friends and loved ones instead of inside a Gurdwara as it has always been the case.
Notably, Guru Granth Sahib, the sacred book of Sikhs, acts as the light of ten gurus. Sikhs respect the book and even consider it as a living guru. For a Sikh outdoor wedding to proceed, the Guru Granth Sahib must be present. This usually calls for logistics, as carrying the book to a wedding venue isn't often as easy and straightforward as many non-Sikhs believe. It is also worth noting that Sikh wedding ceremonies call for special sitting arrangements. Take all these factors into account, and you'll undoubtedly have a beautiful outdoor Sikh wedding. 
The Priest
The priest plays one of the most essential roles in Sikh weddings. To put the importance in perspective, a Sikh wedding ceremony can't proceed without a priest, who can be a man or a woman. The priest should inform a couple of all they need to do for the venue before the D-day.
Your priest will most likely bring a Chandra Sahib, which is a unique fabric set in the form of a sizeable umbrella to cover the Guru Granth Sahib. It is also important to note that not all priests usually agree to conduct wedding ceremonies outside. This is yet another complicated issue that comes along with Sikh wedding ceremonies.
It is also important to note that in most Sikh weddings, whether outdoor or done at the Gurdwara, usually requires at least three priests. Two of the priests will be doing the Kirtan from the Guru Granth Sahib while one will be reading the holy script.
The Stage of Canopy
The Guru Granth Sahib isn't any other book in Sikhism. That' why wherever Sikhs gather for a religious event, the book is always present. It must then be set on a special podium or a canopy. 
Seating Arrangement
Sikh outdoor weddings usually follow strict seating arrangements. The Sangat (guests) must all be seated on the floor. This shouldn't bother you so much, mostly because the duration of an average Sikh wedding is usually 40 minutes. You'll most likely be seated on a soft carpet to ensure you're comfortable. If you're planning an outdoor wedding, this is very important. Set aside some money for the carpet.
The Surface
Both outdoor and indoor Sikh weddings don't feature chairs. You'll all be seated. This means it is essential to prepare the surface on which your guests will sit on. Do this at least one day before the wedding. Remember, it's not just about the guests' comfort but also ensuring they don't get dirty. This is particularly important if the surface where your guests will be seated on is concrete.
Go for a wedding event planner that can help you find decorators that can arrange for underpadding. You may also want to arrange for plain white shirts from your local Gurdwara to cover the under-padding.
The Venue
Your priest may request that you wash the venue before the wedding ceremony. This mostly happens where the venue has a bar. Note that Sikhs don't consume alcohol, so the bar may present a challenge. Your priest may actually advise you to reconsider the venue. If the venue is right next to where alcoholic drinks are served, then you may have to put up a separation drape.
Shoes
Sikhs usually remove their shoes before they enter a wedding venue, whether outside or inside a gurdwara. With that in mind, designate a place for shoes. The last thing you want is your elegant and beautiful wedding ceremony photos tainted with shoes strewn all over the place.
Bring in 3 or 4 show racks or shelving where your guests can place their shoes. Have a spate shoe rack for men and women. If this isn't possible, designate a special place for the shoes then make sure you have someone to arrange the shoes well.
Provide Some Chairs
You'll most likely have old people attending the event. You may also have physically challenged guests who may find it challenging to sit for long without a place to rest their backs. Provide some chairs for their sake. This is also important if you'll have expectant guests at the wedding.
Decorations
Sikh weddings are usually very colorful. To ensure yours doesn't deviate from the norm, hire a decorator. Go for one who understands the intrigues around Sikh outdoor weddings. Note that you don't have to spend much on decorations.
If you're getting married during summer, arrange for a canopy to shield your guests from the sun. You may also want to have a few umbrellas or a separate tent just in case your guests don't fit inside the canopy. The shade is an essential aspect because heat causes people to quickly feel exhausted, hungry, and sleepy. Once that happens, they may want to leave a few minutes after arriving.
Rumaals and Dupattas
Your Sikh friends already know they have to cover their heads during the wedding. But what about your non-Sikh friends. Chances are, they are clueless. To avoid embarrassment, bring a scarf for women and handkerchiefs for men. Even better, arrange for extra dupattas and rumaals . Distribute them for your guests who don't have anything to cover their heads with. 
Watch The Weather
Be mindful of the weather. You know your location and its weather patterns well. You certainly don't want to have your guests freezing outside or even getting rained on. If you're in the West, then the most appropriate season is usually during summer.
Take the weather issue seriously. It can ruin your day, and there's really nothing much you can do about it. It's Mother Nature, after all – she does what she wants without consulting humans.
Brief Your Non – Sikh Friends
You'll have some work to do if you'll be expecting many non-Sikh friends to attend your wedding. You certainly don't want them to feel out of place or embarrass you. Brief them on the basics.
For example, many non-Sikh friends usually don't know what to do when the urge to attend a nature call comes in the middle of the wedding. Remind them it's perfectly okay to gently stand and leave. Speaking of nature calls, ensure the venue has a separate place for men's' and women's washrooms.
Other Factors
This is where issues like photography, music, and food come into the picture. Have someone assist you with all these things. It is also vital to always organize transportation for guests who may not have cars. The main objective here is to ensure all guests enjoy the day. This means hiring the best chefs and the best entertainers.
Wrap Up
Planning for an outdoor Sikh wedding isn't as hard as many people think. Prepare well and on time, and you'll most likely have a beautiful outdoor wedding. Be sure to involve your partner throughout the process so that you're always on the same page.