There are a number of things to be organized when you have set a date for your Sikh Wedding Day. A venue, wedding attire, gifts, transport, honeymoon are the first things that come to mind, but there's also the food that is traditionally served at the wedding reception that needs attention.
Sikh wedding food choice is vast and varied, with both vegetarians and non-vegetarians being well catered for. Food is something that people always comment on long after the wedding has taken place and it will definitely make any Sikh wedding a memorable one too.
The taste of the wedding food, with the multitude of spices and chutneys can vary from chef to chef, with each chef having their own special blend of spices. To the way they marinate their dishes and obviously their own way of cooking.
No two chefs will cook identical tasting dishes, therefore, I have not gone into great detail about how the food is cooked, as the exact ingredients involved in the spice or masalas will vary according to the style of the chef cooking the food. As each Chef will cook in their own way. Below is a very brief outline description to each dish.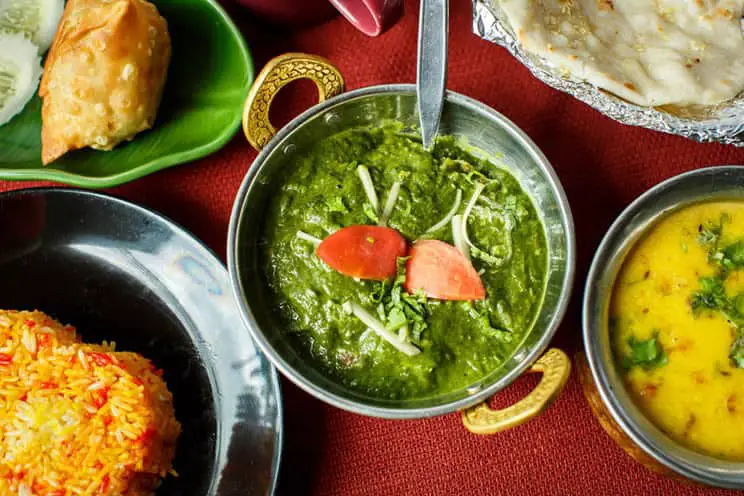 Below is a list of the 41 most popular foods served at Sikh weddings along with details about the food, including how it's prepared where possible. Later on I've listed how these foods are served as either a starter, main course or as a dessert.
1. Samosas
Samosas are small pockets of pastry to which fillings are added and fried. The fillings commonly used are potatoes, peas, onions, garlic, carrots and spices. Samosas are normally shaped in triangles. Samosas can also be non-vegetarian. For non-vegetarian mince lamb or chicken is used.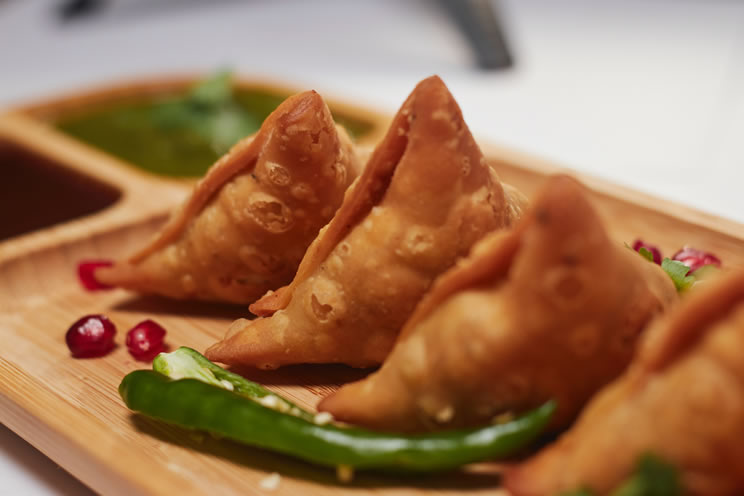 2. Aloo Tikki Chaat
Aloo Tikki Chaat consists of mashed potatoes which are spiced and fried into small patties. It is topped with yogurt which is covered with finely chopped onions and chutneys.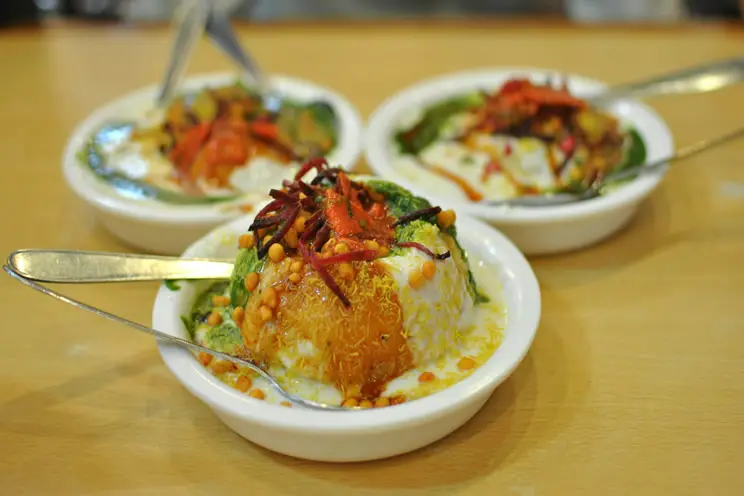 3. Vegetable Pakora
Vegetable Pakoras also known as onion bhajees, are made from vegetables such as potatoes and onions, which are then coated with gram flour with spices and then deep fried. Served with chutneys.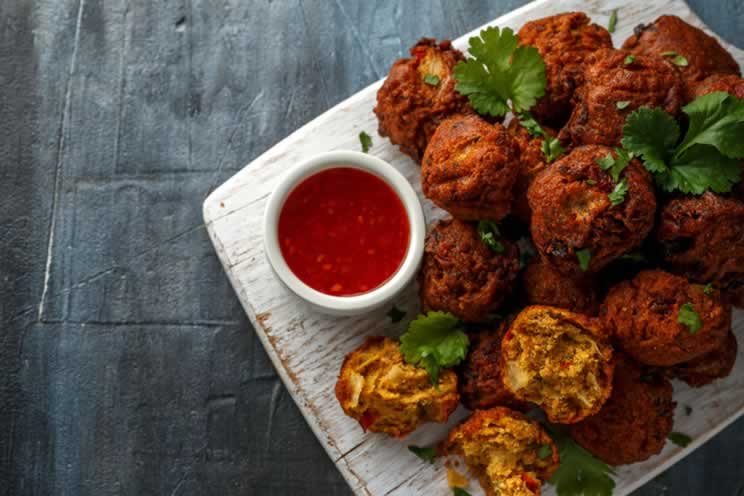 4. Papdi Chaat
Papdi chaat is a  dish consisting of small puri's (whole meal flour made into dough with water), which is then topped with yogurt, spices and normally topped with either green or tamarind chutneys or sometimes with both. This can vary and sometimes small, cubed potatoes or pomegranate seeds can be set on top of the puri's as means of decorating the dish.
5. Tandoor Paneer Tikka
Paneer (Indian cheese made by curdling milk) is cut into small cubes which is marinated in spices. It is cooked in a hot tandoor (traditional Indian clay oven), whilst on skewers. The Tandoor panner tikka is then served, sometimes still on the skewers it was cooked on.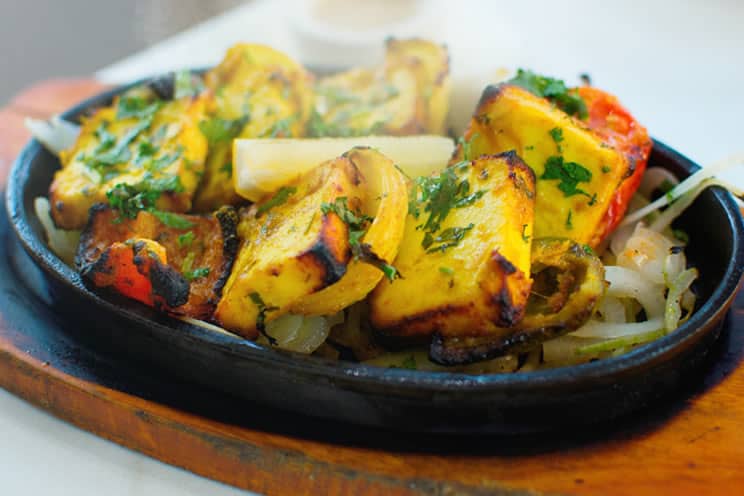 6. Chili Paneer (Indian Cheese)
Paneer, an Indian cheese is made by adding a little bit of either lime or vinegar to boiling milk. When the milk splits, the next step is to discard the whey and then drain the milk solids. What's left is allowed to cool and once cool enough to knead, it is kneaded into a dough.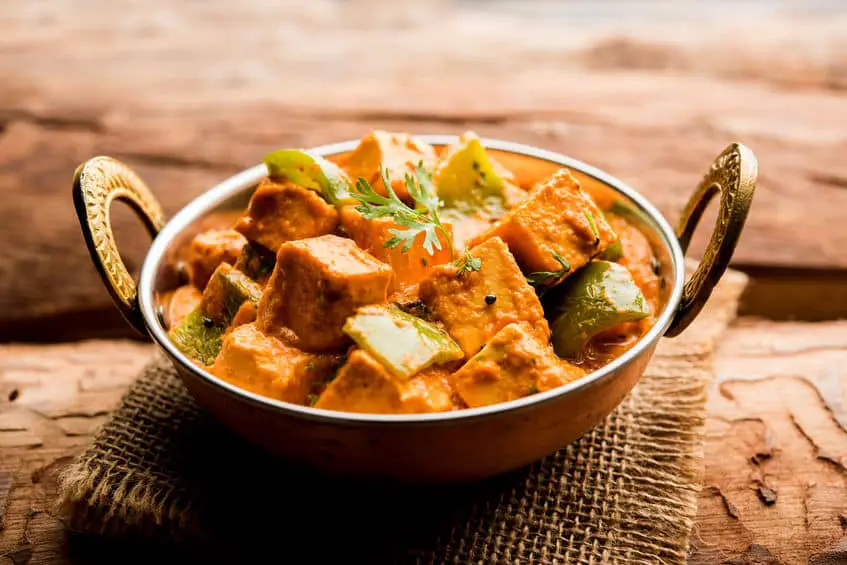 Paneer is then cut in small cubes which is then cooked with spices, vinegar, soy sauce and chili sauce. It's a mixture of Indian and Chinese.
7. Chili Mogo
Mogo is also known as Cassava. It is a little like a potato but, has a higher protein content and is chewier and lighter in flavor. This is another dish which is a mixture of Indian and Chinese in that it uses soy sauce. Mogo is fried and coated in a spicy and sticky sauce.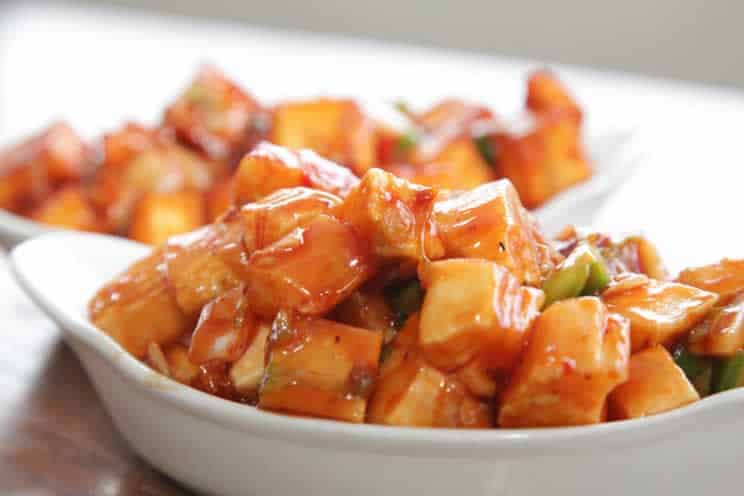 8. Sheik Kebabs
Sheik kebabs are made using either mince chicken or lamb with onions, garlic and ginger paste and spices. It is then made, using a skewer to get that cylinder shape. Cooked in a tandoor, (traditional clay oven).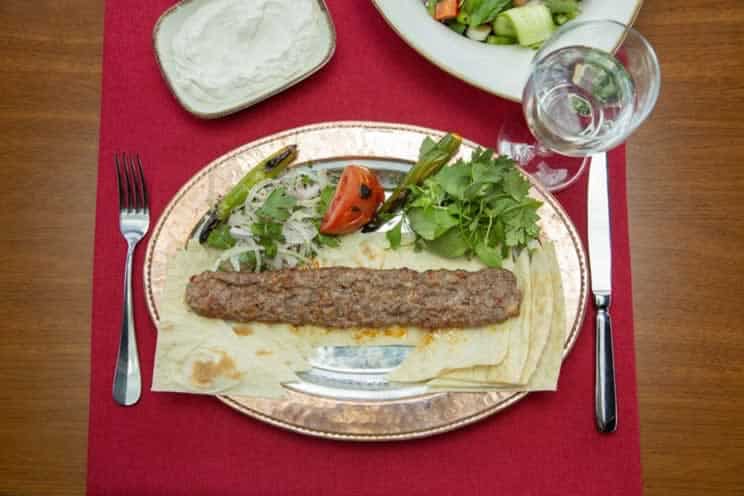 9. Chicken Tikka
Chicken tikka is just boneless chicken cut into chunks which is marinated in yogurt and spices and cooked on skewers in a tandoor, (traditional clay oven).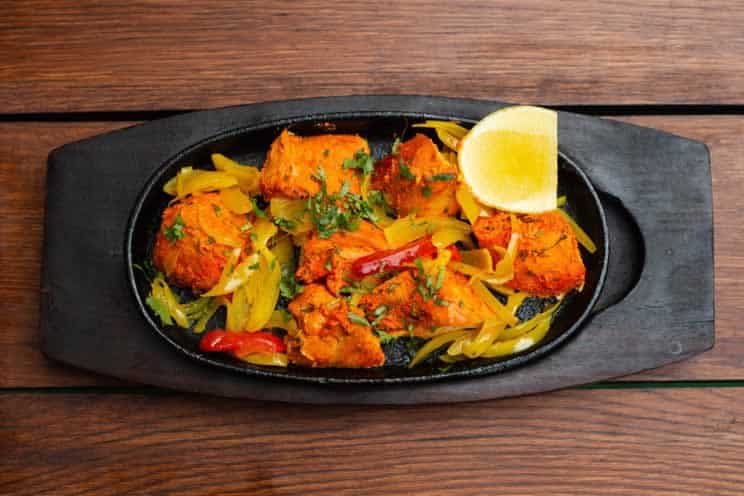 10. Tandoori Lamb Chops
As the name suggests, the lamb chops are cooked in a tandoor (Indian clay oven). Prior to cooking the chops are marinated in spices and strained yogurt.
11. Fish Pakora
Fish pakora can really made with either white fish or salmon. Examples of white fish are cod, bass, haddock or halibut. White fish is normally mild in that 'fishy' flavor. Fish is marinated with garlic, ginger and lime. It is then flaked in small pieces and combined with mash potato, spiced gram flour batter and fried until golden brown.
12. Jeera Chicken Wings
Jeera chicken wings as the name suggests, uses predominately Jeera (cumin) as its dominating flavor. Together with spices, ginger and garlic paste, the chicken wings, after being cooked, are coated generously with the paste.
13. Chili Prawns
Prawns are stirred fried with blends of spices with additional chilies to give you that extra kick.
14. Dhal Makhani
Dhal makhani dish consists of lentils such as red kidney beans and whole black lentils. They are cooked with onions, garlic and ginger and spices. With the use of cream and butter, it makes this dish rich and creamy.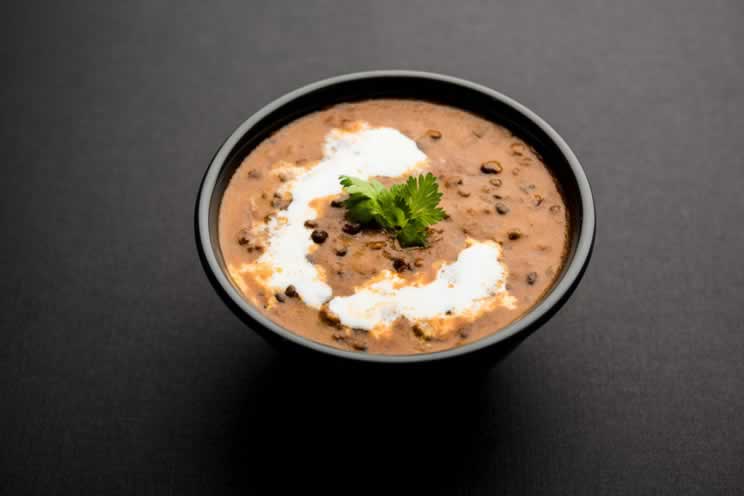 15. Cholay/Chana (Chickpeas)
Cholay also known as Chana are made with either black or white chickpeas. Both lentils can also be used together. They are cooked with onions, garlic, ginger and spices. They can be made with a sauce or can be served slightly on the drier side.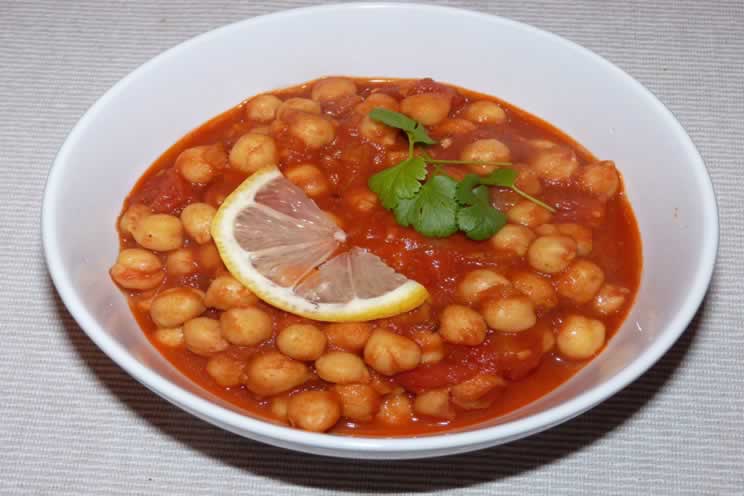 16. Vegetable Kofta
Vegetable kofta dish is made using a variety of vegetables which is minced, spices added and rolled into small ball shapes. These are then either shallow or deep fried. They are served in an Indian gravy which is tomato based with onions and spices. It is a rich and creamy sauce.
17. Paneer Saag
Paneer saag combines saag (spinach) with paneer (Indian cheese).  The paneer is cut in small cubes and then added to puréed saag (spinach) which is cooked with onions, garlic, ginger and spices.
18. Vegetable Jalfrezi
You can use a variety of vegetables in a vegetable jalfrezi, from green/red peppers, cauliflower, carrots, peas etc. The vegetables are then cooked in a Jalfrezi sauce which basically means it is a very hot curry. The sauce or gravy is made using tomatoes, onions, peppers and substantial number of green chilies together with spices.
19. Mushroom Masala
Mushrooms are cooked in an Indian curry sauce. The sauce combines onions, spices and herbs in a tomato gravy base.
20. Aloo Gobi
Aloo gobi uses two main ingredients, aloo (potatoes) and Gobi (cauliflower). This dish uses turmeric and that's how it achieves its yellow color. The dish is cooked with onions, garlic, ginger and spices.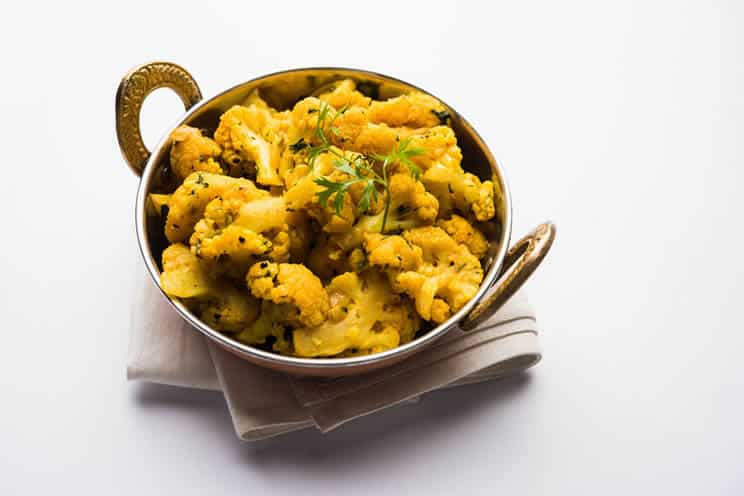 21. Chicken Tikka Masala
Chicken tikka masala involves taking boneless chicken and cutting this into small chunks, then marinating this in yogurt and spices. This is either cooked in the traditional tandoor (Indian clay oven) or roasted prior to being added to the Indian gravy/sauce.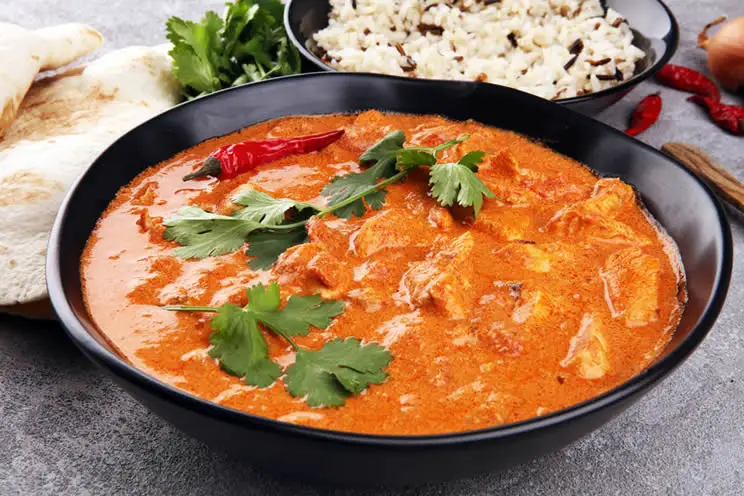 The actual sauce varies considerably but, the sauce is normally orange in color, which is achieved using tomatoes and is creamy in texture. This is commonly a very mild dish.
22. Palak Lamb
Palak lamb dish uses chucks of boneless mutton which is cooked in pureed spinach. It is cooked using onions, garlic and ginger paste, with tomatoes and spices.
23. Chicken Korma
Chicken Korma can either be mild or hot. This dish uses boneless chicken chunks which is marinated in yogurt or cream. It is then cooked using stock or water. Spices is added to develop a thick gravy/sauce.
24. Masala Lamb
Masala lamb uses boneless lamb chunks which is cooked in water with onions, garlic, ginger and spices. It is cooked slowly to ensure the lamb is cooked until tender and the gravy is of good consistency.
25. Butter Chicken
Butter chicken is normally quite a mild dish. It uses boneless chicken chunks which is initially marinated and cooked first on the grill. The cooked pieces of chicken pieces are then added to the sauce/gravy. The sauce is made from using predominately butter, tomatoes and spices. This gives you that lovely buttery taste.
26. Keema Mutter
Using mince lamb, this keema dish is cooked using onions, garlic, ginger and spices. Mutter (peas) is added to the dish. This dish does not have excess amount of gravy.
27. Tandoori Naan
Naans are commonly made using flour, yeast, water and pinch of salt. It is an Indian flatbread which is traditionally cooked in a tandoor (Indian clay oven). The toppings of the naan can be varied by adding coriander, garlic, green chilies etc.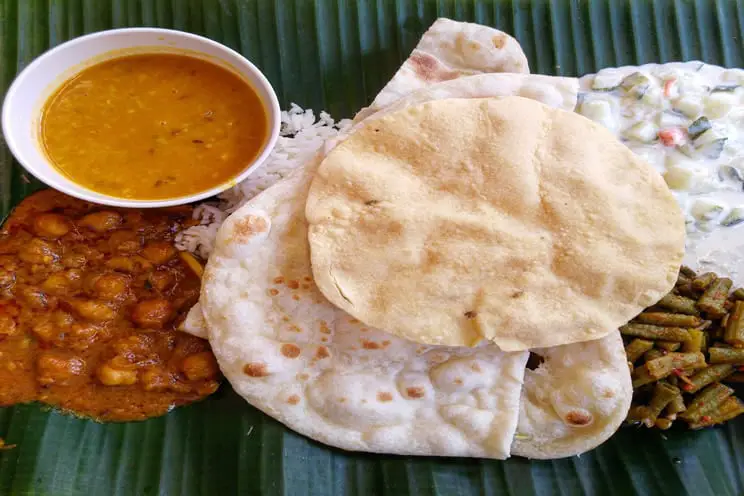 28. Puri
Puri's are made using chapati flour (atta) – whole meal flour which is finely milled. Using water, it is kneaded into a dough. Then rolled into small circles which is then deep fried.
29. Bhatura
Bhatura is made using chapati flour (atta) but, instead of being combined with water, yogurt is used instead. It is deep fried and has a fluffy texture and slightly thicker than a Puri.
30. Rice
You can get a variation of rice dishes. Rice is boiled until cooked and can be white or brown. Served with peas or just plain with cumin seeds. It can be topped with fried onions as form of decoration.
31. Cucumber & Jeera Raita
Raita is plain yogurt. To which you can add either grated or finely diced cucumber. Jeera (cumin seeds/powder) is added for additional flavor. Salt and jeera (ground cumin) can be added for not only taste but for decoration purposes as well.
32. Onion & Cucumber Raita
This raita (plain yogurt) consists of finely diced tomatoes, red onions and cucumber. Salt and ground jeera (ground cumin) is added to taste as well as decorating the dish.
33. Roti/Chapattis
Roti's also known as chapattis are made with atta (finely milled whole meal flour) this is combined with water to make a dough. Rolled into a round shape and cooked on a tava (flat skillet). Can be brushed with either ghee (clarified butter) or butter just before serving.
34. Gulab Jamun
Briefly Gulab Jamun is made mainly using milk powder, touch of flour and/or baking powder which is then formed into a dough using milk. Cardamom powder can be added for taste and flavor. Rolled into small balls which are lightly fried. This gives the ball a brown colored finish. The balls are then placed in a large pot which contains a sugar syrup made simply of sugar and water. The balls are left to soak up the sugar syrup and can be served either hot or cold.
35. Kulfi
Kulfi is an Indian equivalent to ice cream. It is more solid and dense then an ice cream. Made using condensed milk. The variety of flavors comes in the additional ingredients added, such as mango, rosewater, cardamom or even pistachio nuts. Kulfi's are traditionally shaped into small cones served in a bowl but can also be served on a stick.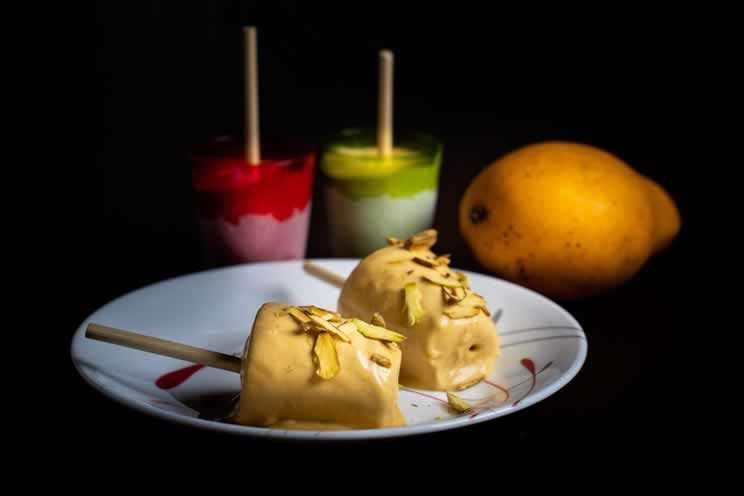 36. Gajar Ka Halwa
Gajar Ka Halwa is a slightly dense carrot-based dessert. Carrots are shredded and cooked with individual amounts of milk, sugar, water and cardamom. The carrots are cooked on a low heat until the liquid has been substantially reduced. Served normally hot and decorated with finely chopped almonds or pistachios.
37. Burfi
Burfi is a milk based which comes in a variety of shapes, colors and flavors. Main ingredients being used are sugar and milk powder with nuts and/or cardamom. Normally distributed or shared on occasions of celebrations.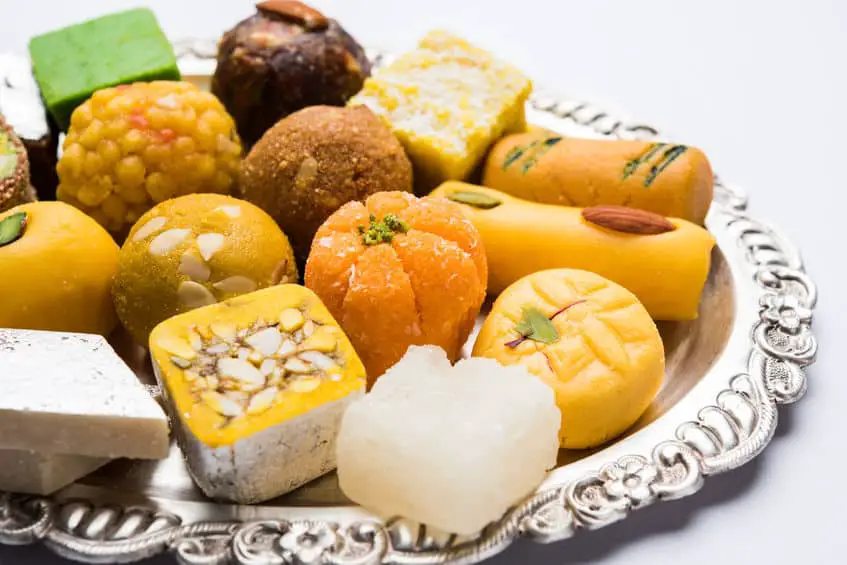 38. Rasmalai
Rasmalai is made using panner (Indian cheese). The paneer dough is shaped in small oval shapes which is then immersed and soaked in sweet, flavored milk. Cardamom is used to add an additional flavor to the dessert.
39. Rasgulla
Rasgulla is a spongy texture dessert which are shaped in small round balls. Milk is curdled and the whey is drained using a muslin cloth. The drained paneer is rolled into small balls once it has been kneaded. Using a sugar syrup, they are cooked until spongy and light.
40. Ice Cream
In brief ice creams are mainly made using variation of milk, cream or condensed milk. Together with egg, sugar and a suitable stabilizer for example gelatin. There are varying methods to making ice creams and obviously ingredients are added to differentiate different flavors. For example, strawberries for strawberry flavored ice cream or vanilla pods for vanilla flavored ice cream etc.
41. Wedding Cake
The wedding cake will also be served to some and maybe all of the guests depending on the size of the cake. Usually this is done just after the desserts are served during the main meal at the reception.
Choose your cake designer
As with the catering, it's makes sense to ensure you visit at least three to four wedding cake designers and have a budget set aside for your cake. Be aware cake designers will require a deposit to secure your booking.
Allow your cake designer enough notice by ensuring you give them between three to six months' notice. Check that they are able to deliver your cake to your venue. There may be a small charge for delivery but, this is definitely better then relying on anyone else. Plus, this way you know the cake will be delivered in one piece.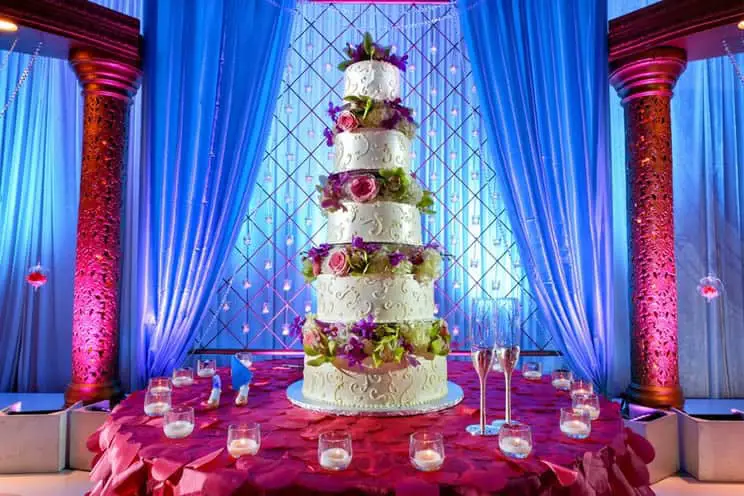 Research for cake designers around your surrounding area or around the areas of your venue, as transporting a large cake needs careful consideration. You don't want someone driving for miles to bring a cake to you, when delays, or damage to the cake in transit over a long journey could occur. Read the reviews online and ask for recommendations from your family and friends who have recently got married.
Work out your wedding cake size
Prior to visiting your cake designer, it is helpful to know the number of guests you are catering for. This will help you to decide on how many tiers your cake needs to be. For example, a 3 tier cake will cater for 50-100 guests, for 200 guests or more you may need 5 tiered cake or more.
Have an idea as to the style of cake you would like and ensure it compliments your other wedding elements. Apart from visiting wedding fairs, have a look on the internet to gauge an idea of what style you would like or browse through wedding magazines.
The tradition of wedding cakes dates back to the ancient Rome. Grooms would end their wedding day by symbolizing fertility by breaking a loaf of barley bread over the bride's head. For good luck, guests would then try and pick up the crumbs and take them home.
Style and flavor of wedding cake
Traditionally wedding cakes consist of three tiers, with each tier having a significance behind it. The top tier is normally kept for either when the couple celebrate their first-year anniversary or on the christening of their first child, (which used to be within the first year of marriage).
Wedding Cakes play an important part in all weddings. They come in a variety of flavors and shapes so there is always one suitable for everyone. They are the premiums in cakes as only the best ingredients are used. Real butter instead of margarine to name one.
Each tier can be of different flavors and you can pretty much have anything and everything you want. Wedding couples have been known to even have an increase in the number of tiers. From the traditional three tier to six and above.
Wedding cakes vary in design and style and I have even come across a wedding cake which is shaped into a wedding carriage which is being pulled by an elephant. Wedding couples are definitely spoilt of choice these days and the choices are endless.
The cost of wedding cakes vary quite considerably and really depends on the number of tiers, the ingredients being used, for example if you are having a sponge or fruit cake and the design and style of your cake.
As well as the ingredients and flavors, the number of guests will also factor in your costs. The more guests the larger the cake. Your cake designer will be able to advise you as to the size of the cake required for the number of your guests. The costs can vary anything from $100 to $1,000 plus.
Remember to ensure you do a cake tasting prior to making any deposits on your wedding cake. Make sure you are completely satisfied with not only the taste but the texture of the cake.
Cake stands are important
The only other thing to remember is to check who will be providing the cake stand and the special cake cutting knife which is a very thin blade and long. This will look more appropriate than your standard knife. They can either be provided by the cake supplier or provided by the venue, caterers or cake designer.
Prior to making your final decision when choosing your cake designer, try and get a sample tasting of variations in possible flavors of cake possible. This way you will be completely satisfied that they can bake a moist and tasteful cake.
Be aware that depending on the samples of tasting you require, the cake designer may charge towards this but, this may then be deducted from the cost of the wedding cake.
Preserve your cake for your wedding anniversary
The top tier is normally a fruit cake so that it would last for the first year. To ensure your top tier lasts for a year, ensure that your fruit cake is wrapped in either greaseproof/foil paper and stored in an airtight contained before storing in the freezer. Fruit cake laced with liquor will last longer and taste improves with age as well. As the fruitcake is made using dried food and nuts as well, this ensures that there is not enough moisture to reproduce any microorganisms.
The fruit cake will also improve with age, known as 'ripening'. The second tier is supposed to be distributed after the event and the bottom tier is enjoyed on your wedding day.
Choosing catering for a Sikh Wedding
Once you have booked your venue you need to start looking at caterers for your big day. Food plays an extremely important part in all weddings and it will complete any event. Depending on your venue, you may have an option of using in-house caterers.
Your venue may offer you a list of caterers that are on their preferred suppliers of wedding catering that they recommend and have used in the past. This will ensure that the caterers are familiar with the size and the layout of the venue.
Finding Caterers
If your venue is unable to recommend any caterers capable of cooking authentic Indian food for a Sikh wedding, then there are a couple of options open to find a suitable caterer. These include attending wedding fairs as they are a great source of meeting and getting contacts for your wedding needs.
Searching the internet for specialist caterers in your area or in the vicinity of your chosen venue is another avenue. Please do read any previous online reviews before deciding to engage with a caterer.
Maybe your friends or other members of your extended family can give recommendations as this is an excellent way of judging any potential caterers and helps make your final decision easier.
Attend wedding fairs if you can as they are a great source of meeting and getting contacts for most of your wedding needs. You should be able to make initial contacts with both wedding caterers as well as cake designers for your wedding cake. Exhibitors may also have some samples at their stall for you to try to. This is a great way of having an initial chat a number of possible suppliers in one place.
Set a budget
Ensure you have set a budget for the food for your wedding day as this will help you to devise your menu and assist you to stick as close as possible to your original budget. Remember caterers will require a deposit to secure your booking and that goes with your cake designer too.
You can have as many courses as you wish but, this will also have a huge affect on your budget. The more courses, the higher the cost factor. So, choose your food items wisely and refrain from getting carried away. More does not necessarily been better, as quality over quantity is a must.
Remember some food dishes are likely to be more expensive than others. For example, lamb chops may be slightly more expensive than chicken tikka starters. White fish may be less expensive then serving salmon.
Initial Consultation and Tasting
Once you have established a short list for both your wedding caterers as well as cake designers for your wedding cake, arrange an initial consultation with a few of these.
This will give you the chance to talk to them about your ideas for the menu and hopefully they will be able to guide you and offer other or similar options which they may think will suit your venue and occasion better. Be open minded and remember they generally will have the expertise, experience and knowledge of what is popular with wedding guests.
It is important that you feel comfortable with your chosen caterers as you are relying on them to ensure all food prepared is of the highest quality. Ensure your caterers are aware of any of your guest's specific dietary requirements.
Looking for caterers should be less stressful then planning any other part of your wedding and hopefully you will have fun tasting all the different food and enjoy the experience.
Ensure you have chosen caterers who are vastly experienced at catering for large wedding parties. Taste will also vary from chef to chef. So, ensure you have a food tasting day set aside so that you can taste all the food prior to booking your chosen caterers. You should be able to share this experience with close family members and friends.
Professional caterers will pay attention to detail throughout each of your courses. Food should look colorful and appealing to the eye. Caterers will also be in a position to advise you as to the quantity of each item so that wastage is limited. Afterall you do not want to pay for food that is just going to be thrown away.
Sikh Wedding Menu Courses
Food at Sikh weddings is split into courses, where starters can arrive at the dining table before the main course arrives. Finally the desserts will be served, and this could include a piece of wedding cake.
I've listed the foods according to whether they are starters, main course or dessert items.
Starters – Non-Vegetarian
Meat is served at many Sikh weddings especially when the reception part of the wedding is not held in a religious building like the Gurdwara, the Sikh Temple. As the Gurdwara is sacred and any meat or alcohol is not allowed.
With lavish weddings held in venues like 5 star hotels, to bespoke wedding venues, meat always tends to get served. A selection of meat dishes includes:
Sheik Kebabs
Chicken Tikka
Tandoori Lamb Chops
Lamb/Chicken Samosas
Fish Pakora
Jeera Chicken Wings
Chili Prawns
Starters – Vegetarian
There are many appetizers and starters to choose from for Sikh weddings. The following are only few of the more popular vegetarian items available:
Samosas
Aloo Tikki Chaat
Vegetable Pakora
Papdi Chaat
Tandoori Paneer Tikka
Chili Panner
Chili Mogo
Main Course – Vegetarian
Sikh wedding food has an excellent selection of vegetarian main courses and this isn't just to cater for any vegetarians in the entourage but because vegetarian food is eaten by all Sikhs from vegetarians to non-vegetarians alike. Popular vegetarian dishes include:
Dhal Makhani
Cholay
Vegetable Kofta
Paneer Saag
Vegetable Jalfrezi
Mushroom Masala
Aloo Gobi
Main Course – Non-Vegetarian
The meat dishes at a Sikh wedding are widely known as they can be served at Indian restaurants. Popular meat dishes include:
Chicken Tikka Masala
Palak Lamb
Prawn Curry
Chicken Korma
Masala Lamb
Butter Chicken
Keema Mutter
Side Dishes
Side dishes are the accompaniments to all Indian dishes and are served with the main Course, these include:
Tandoori Naan
Puri
Bhatura
Rice
Cucumber & Jeera Raita
Onion & Cucumber Raita
Roti
Desserts
Indian sweets make a great addition to the Sikh wedding food and these include:
Gulab Jamun
Choice of Kulfi
Gajar Ka Halwa
Choice of Burfi
Rasmalai
Rasgulla
Choice of Ice Cream
Wrap Up
The choice of dishes at Sikh weddings are incredible with a good selection of vegetarian and non-vegetarian dishes. With dazzling starters available to sumptuous main courses, all topped off with delicious Indian sweets for desserts. Truly topping off a wonderful day of festivities and celebration for the marriage between Sikhs.